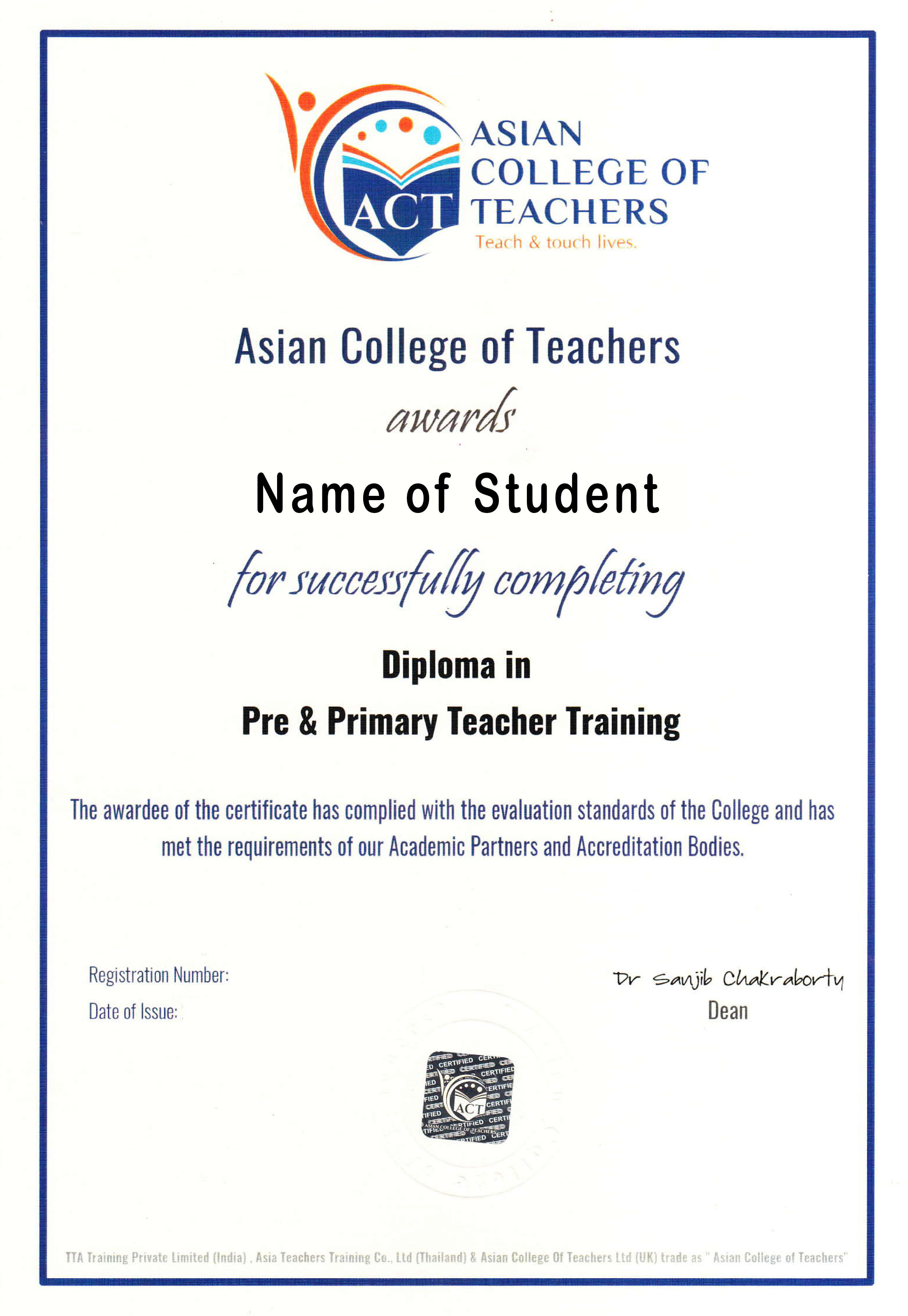 The Distance Pre & Primary Teachers Training Course is divided into many phases and modules. After the completion of each module, the trainee is given a set of assignments to complete in a given timeframe. Each assignment is completed and sent to the tutors for evaluation. After evaluation of each module, the tutor sends the feedback to the trainee within seven to ten days and the trainee is allowed to start with the next module. After the successful completion of all the modules, the trainee is provided with two months to research on a particular topic related to teaching young learners and write a thesis based on it. The thesis is sent for a final evaluation and based on the feedback, the candidate is awarded with a Diploma Certification in Pre & Primary Teachers Training Program.

The term 'Online' or 'Distance' is not mentioned on the certification thereby, providing the same value to the certification as its onsite counterparts. The Diploma in Online and Distance Pre & Primary Teacher Training program like other Diploma Courses offered by ACT is endorsed by Training Qualifications, UK (TQUK), a prestigious British Awarding Body and Ofqual regulated Awarding Organisation in United Kingdom. ACT is also accredited by the well-known City College Birmingham, which is recognised by ATHE – Award for Training and Higher Education & Pearson approved centre.

ACT is also the proud members of

"The Quality Council of India (QCI), India's pioneering quality promoting foundation set up by the Government of India,

ISTD - Indian Society for Training & Development, The Association for Early Childhood Education & Development (AECED),

TATA Institute of Social Sciences, Deonar, Mumbai - 400 088,

All India Council of Education, an Indian National Eminence Professional Body for Education

Early Childhood Association (Membership Number is ECALM01389)

Montessori Europe (ME), an international organisation founded with the aim to strengthen Montessori professionals working in Europe

AAHEA - The American Association for Higher Education and Accreditation, an organisation in the United States dedicated to the advancement of higher education

International Association of Special Education, an organisation aimed at improving the quality of life and services received for individuals with Special Needs

Moreover, most of our Special Education courses are endorsed by CACHE, UK, a part of NCFE, which deals with the 'continued education and care' for 'children, young people and adults ' and aim at producing quality vocational courses ACT has also collaborated with Cambridge to conductTeaching Knowledge Test (TKT), in India – a test which examines your knowledge and expertise on English as a language.