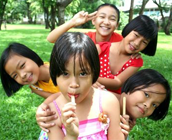 Asian College of Teachers offers a correspondence or a distance course in its Pre & Primary Teachers Certification Program. It is a Diploma course and extremely beneficial for students and professionals and even for people from remote places and unwilling to relocate.

This Teachers Training Course provides an opportunity for aspiring teachers to realize their dreams and even professional teachers to learn about the latest developments in the field of education and teaching and get a fresh perspective. The introduction of this correspondence course by ACT has opened up a lot of avenues for aspiring teachers and provided them with an opportunity to enhance their skills.

ACT's Correspondence Course of Pre & Primary Teachers Training Program is crisply designed and lasts only six months to eight months. It is available to people in India as well as abroad. The minimum qualification for enrolling in this program is a secondary or a senior secondary examination. The Distance Course comes at a very nominal price of Rs. 18000 INR/ 280 USD. Candidates residing outside of India have to pay a nominal courier charge for shipment of the material. They also need to pay an additional amount of 25 USD/ 35 USD to cover the costs of dispatching the Certificate.

The course syllabus is based and streamlined according to international standards. After enrolling and paying for the course, the candidates are sent the study materials. The course is divided into many phases and modules. Upon completion of each module, a candidate has to attempt a set of assignments, which the candidate must finish within a given timeframe and send it to the tutors for evaluation. The candidate may pursue with the studies of the next module while the tutor sends the corrected work within 7 to 10 days. A teaching practice session is included in this program and even though mandatory, it is strongly recommended. If the candidate is not interested in participating and gaining first-hand knowledge in the teaching practice, he or she would have to complete an extra set of assignments. At the end of the six months, all candidates under the careful guidance of their tutors need to undertake two months' of research and analysis to be able to receive the Diploma Certification in the Pre & Primary Teachers Certification Program.

Even though it is a correspondence course, all trainees get constant help from their tutors. In case they have queries, they may contact the teachers over the telephone or e-mail them or even send letters by post and the teachers get back to them. The performance and work of each candidate is evaluated and appraised on a regular basis, feedback provided helping the trainees to learn their areas of mistake and improvise upon them.

ACT's Diploma Course in Pre & Primary Certification Program is ideal for teachers wishing to teach children between 2 to 12 years of age. This program is recognized in pre-primary and primary schools worldwide and helps aspiring teachers and experienced teachers to get jobs globally. ACT provides 100% job assistance to candidates upon successful completion of the program and helps them to get jobs in India and abroad as well.